Our Rooms and Outdoor Space
---
We firmly believe that children learn best through play, and so we have many activities that allow them to explore their natural curiosities.
We have a number of areas across the setting all allowing children to chose different avenues of play.
When not playing outside maybe in the mud garden or on our climbing equipment, they may be dressing up in our role play area, painting masterpieces, or enjoying a quiet story.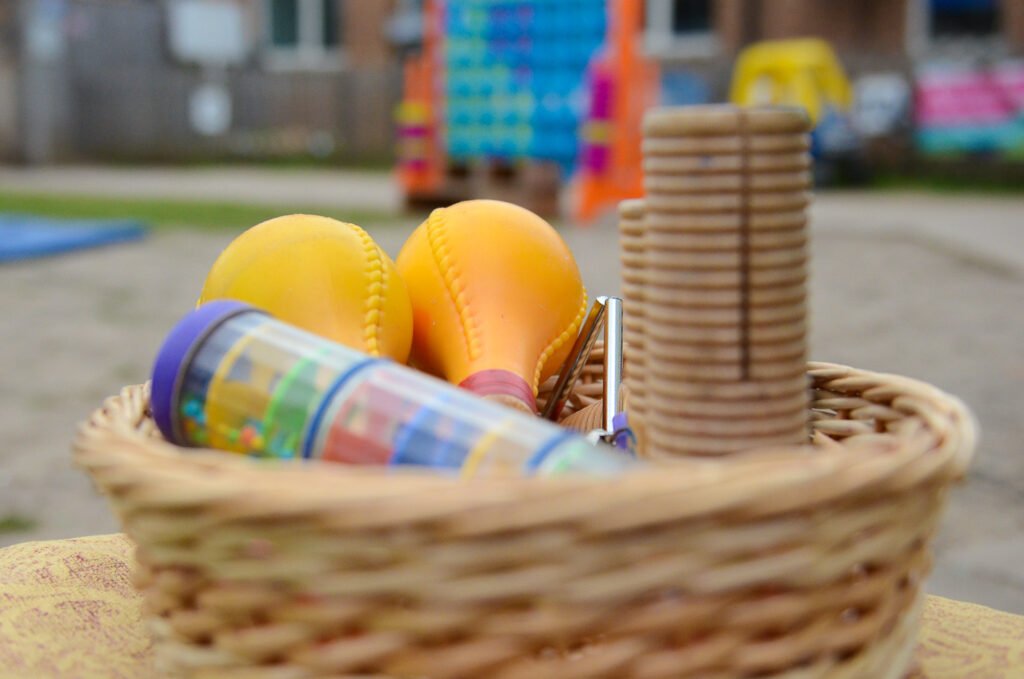 Our rooms
Our two rooms are filled with both pre-planned group and sole activities, and toys for free play.
Outside Space
We have great outdoor facilities children enjoy year-round. Our free flow system means children are free to choose whether they wish to play indoors or outside.
Sensory Room
Our new sensory room provides a wonderful sensory experience.
Role Play
Children love exploring our dress up and role play areas.
Quiet Areas

We have relaxing places children can go to when they need some quiet time.
Mark Making
Children enjoy mark making and developing their writing skills with a variety of media.
---
Tour & Gallery
Please visit our virtual tour below, and browse a gallery of photos taken at our Pre-School. Clicking images will make them full screen.
We aim to ensure that each child:
---
Is in a safe and stimulating environment.
Is given generous care and attention, because of our ratio of qualified staff to children, as well as volunteer parent helpers.
Has the chance to join with other children and adults to live, play, work and learn together.
Is helped to take forward her/his learning and development by being helped to build on what she/he already knows and can do.
Has a personal key person who makes sure each child makes satisfying progress.
Is in a setting that sees parents as partners in helping each child to learn and develop.
Is in a setting in which parents help to shape the service it offers.
Children's development and learning.
The provision for children's development and learning is guided by The Early Years Foundation Stage (DfE 2012). Our provision reflects the four overarching principles of the Statutory Framework for the Early Years Foundation Stage.
A Unique Child
Every child is a unique child who is constantly learning and can be resilient, capable, confident and self assured.
Positive Relationships
Children learn to be strong and independent through positive relationships.
Enabling Environments
Children learn and develop well in enabling environments, in which their experiences respond to their individual needs and there is a strong partnership between practitioners, parents and carers.
Learning and Development
Children develop and learn in different ways and at different rates. The framework covers the education and care of all children in early year's provision including children with special educational needs and disabilities.
Parent Reviews
Some of the kind words from parents of children at our preschool.
Wonderful preschool. Our daughter loved it and our son enjoys it just as much! Thank you to all the wonderful ladies who make it so special!
Louise
Parent
Both my daughters were lucky enough to attend Hellesdon Preschool! They thrived in the positive, caring and friendly environment. The staff are brilliant at communicating and always put the children's needs before anything else. Everything and more you could want in a preschool .
Marie
Parent
My little boy went here, it's fantastic. I've got my 2 twins on the list already!
Rebecca
Parent
Get In Touch
---
We hope that you and your child enjoy being members of our setting and that you both find taking part in our activities interesting and stimulating. The staff are always ready and willing to talk with you about your ideas, views or questions.
---
Hellesdon Preschool
C/O Kinsale Infant School,
Kinsale Avenue,
Norwich
NR6 5SG
[email protected]
01603 484700
Registered Charity No. 1036162